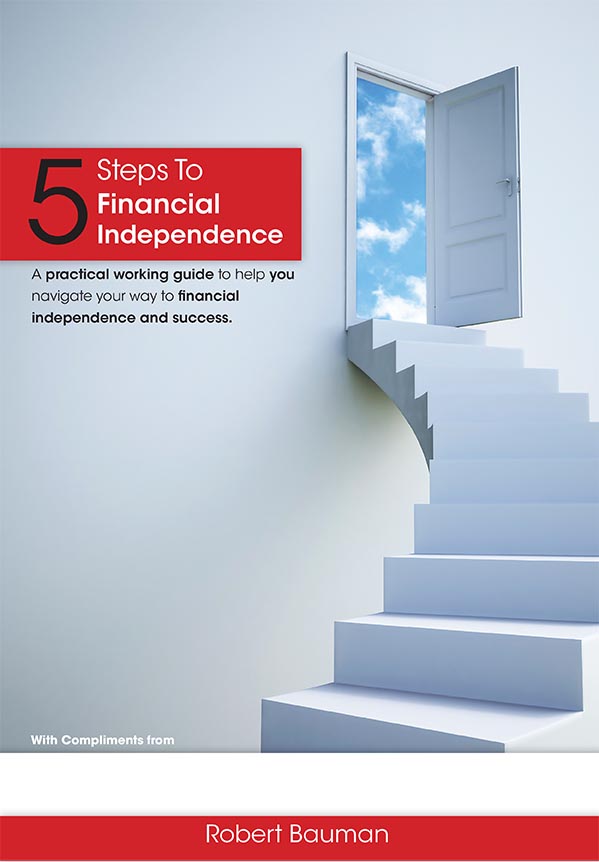 The 5 Steps to Financial Independence eBook will tell you the truth about your financial situation and help you put your financial house in order so you can live the life you dream of.  This no-nonsense guide is for people who want to:
  have more certainty in life
  build wealth to suit their lifestyle
  leave a legacy for their family
Your Blueprint to Financial Independence!
Financial expert, Robert Bauman, has distilled 20 years of accounting and financial experience into 5 key steps to help you take control of your money…and your life.
It's practical. It's specific. And it has action plans and tools to get you started.
All it takes for you is to implement it and make it come alive by following your life goals and dreams.
As well as receiving a gentle kick-in-the-pants AND a much needed injection of hope for the future, through the book you'll discover:
  How to Believe in Your Dream Again… by setting achievable goals and developing practical plans to get there
  The Ultimate Clutter-Buster:  How to get personally and financially organized
  That You CAN Handle the Truth:  How to assess your current position – honestly
  The Dreaded "B" Word: Easy steps to setting and sticking to your budget
  How to Fix Problem Areas Fast… and capitalize on exciting financial opportunities
This ebook can help you put into action the steps you need to achieve your financial dreams and the lifestyle you want beginning now!
Simply enter your name and email address in the box on the top right and you will receive instant access to the ebook plus bonuses! (Valued at $147)
Plus You Will Receive These Free Bonuses
How to Create the Ultimate Record Keeping System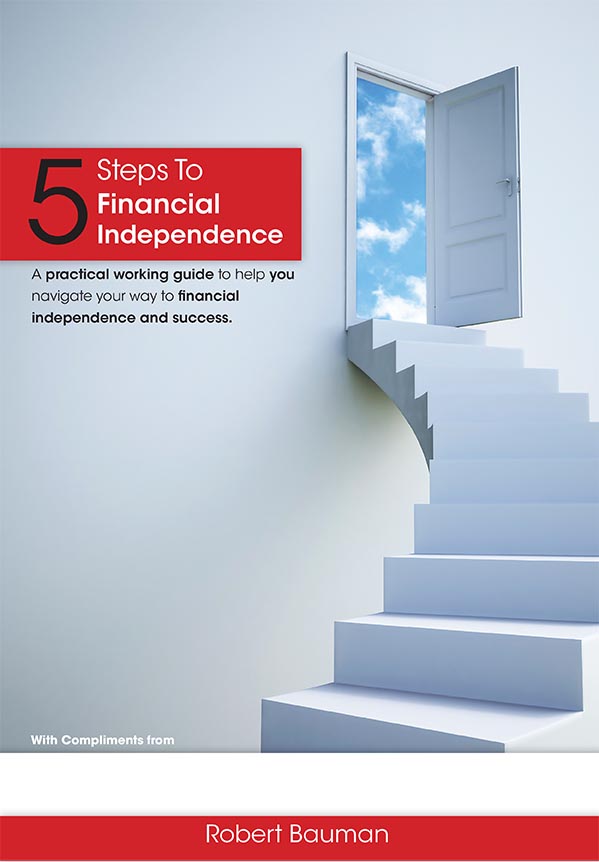 Keeping records is not just about filing documents away and out of sight. Keeping a record system is an integral part of becoming financially successful.
The ultimate record keeping system is one where you can find any document or record at short notice.
This eBook will show you how to get on top of your filing by following 3 simple steps that will give you peace of mind… and you'll always be ready for the unexpected.
Budget & Savings Planner
Take control of your money now by setting up your Budget and Savings Planner. By integrating your goal setting with budget planning these worksheets will assist you to focus your spending towards your life goals and achieving the financial future to support the lifestyle you desire. The worksheets are included in the book 5 Steps to Financial Independence and are available here as soft copy in Excel format.
These are the working templates you'll get, complete with formulas and charts that will instantly show your financial position:
  Goal Setting Planner
  Net Worth Schedule
  Expense Summary
  Income Summary
Are you ready to change your financial future?
Take action today – request your free ebook now!